The container wall is a beautiful and sustainable form of container modification.
Container modification is also known as custom container modification because that's exactly what it is. Based on your requirements, our container specialists work hard to make your dream container a reality. For the municipality of Harderwijk, K-tainer has modified a container wall. Do you want to customize a container according to your specific needs? K-tainer specializes in modifying containers of all types and sizes!
The Container Wall
Nowadays, there are many possibilities for converting or customizing containers, making them perfect for various specific purposes. We speak from experience! The container wall, in this form, was one of the requirements of the municipality of Harderwijk to grant permanent residency rights for Park Ceintuurbaan. As of now, the park is the first holiday park in the Netherlands to have obtained such a permit! K-tainer's container wall is a beautiful addition to the park and also a sustainable way to give containers a second life. In addition, the container wall offers even more advantages!
Fun fact: The number of holiday parks using containers to offer holiday homes as needed is increasing every year.
A Multi-functional Sound Barrier
The multi-functional "sound barrier" is equipped with steel construction mats to support the recently planted climbing plants. In two years, a huge wall of plants will be visible. Additionally, the container wall has another advantage. The thickness and structure of the containers also absorb sound.
As you can see in the photos, most of the containers on the ground are equipped with various types of doors. These containers are used for storage or as workshops. In addition to doors, it is also possible to apply your logo to a container, for example, by spraying it on. We are happy to brainstorm with you about the possibilities.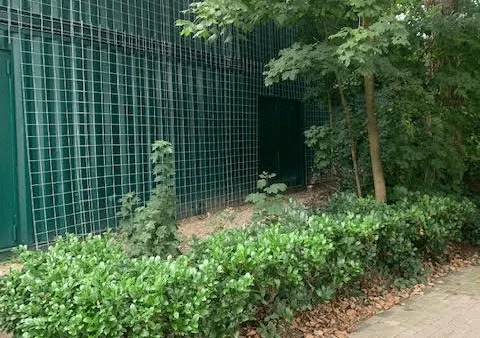 Curious about the possibilities?
Please feel free to contact us and we will be happy to tell you more about the possibilities.